Opens in a new window
Opens an external site
Opens an external site in a new window
The Art of Chocolate and Beer Pairings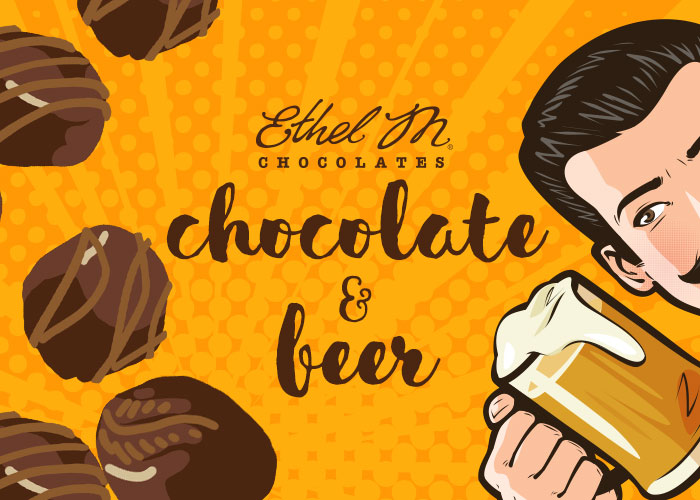 You've likely heard of wine and chocolate pairings, but what about combining beer and chocolate? Though it may sound strange at first, with the right knowledge of how the two can complement one another, it can be a delightful and delectable experience. With just a few simple suggestions, you, too, can be on your way towards becoming a beer sommelier, aka a Certified Cicerone. Read More>
---
Tequila: A Rich History with Rich Flavor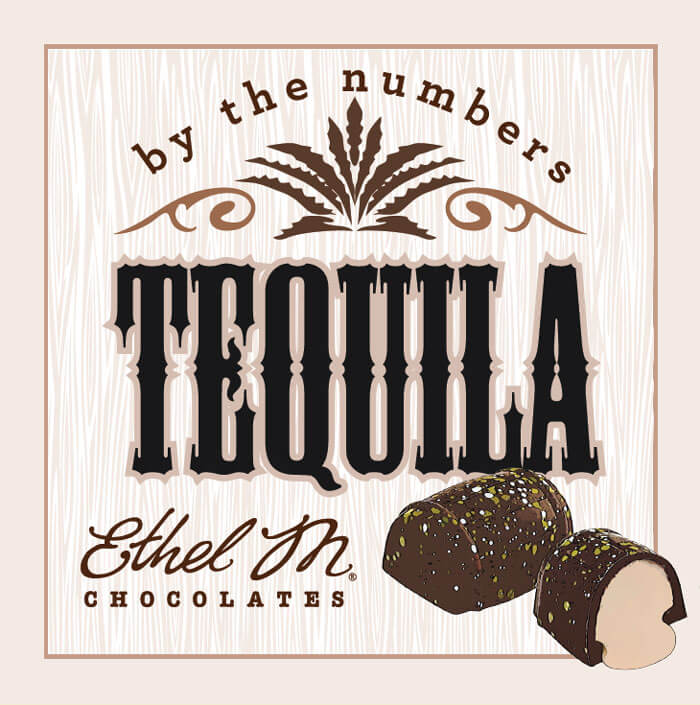 One of the unique offerings at Ethel M Chocolates is a collection of Crème Liqueurs that combine the signature decadent chocolate with premium spirits. The creamy, masterfully blended centers, such as in the Agave Tequila Crème Liqueur Dark Chocolate, have yielded some creative culinary surprises for a delightfully satisfying flavor combination. Dark Chocolate is paired with Agave Tequila in a crème liqueur center. Much like Ethel M Chocolates and our small-batch creations, making tequila is a carefully curated, time-tested process rich with tradition and pride. Read More>
---
Three Unique Easter Basket Ideas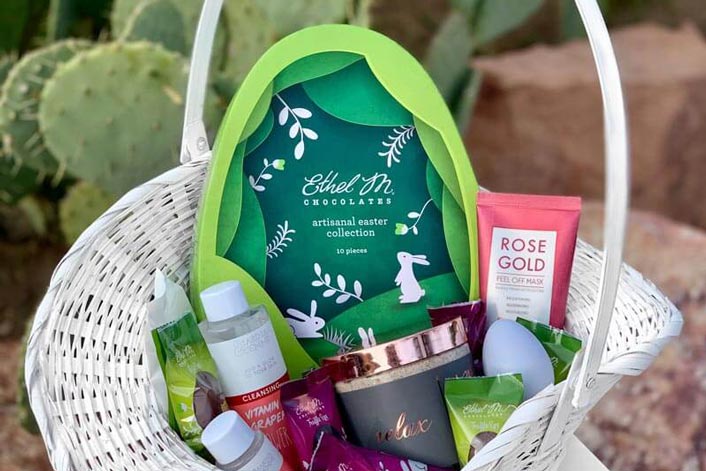 Growing up, there was one thing that we all loved about Easter – the Easter baskets. Those little bundles of personalized perfection were always filled with Easter gifts that captured the spirit of the season. Well, as adults, it's hard to give, or get, that same level of surprise and excitement. But, with a little imagination, you can gift a personalized Easter basket full of treats and fun decorations that will remind everyone of how fun this holiday can be. To help get you started, here are three Easter basket ideas for those unique eggs in your life.. Read More>
---
Romantic Date Ideas for Valentine's Day in Vegas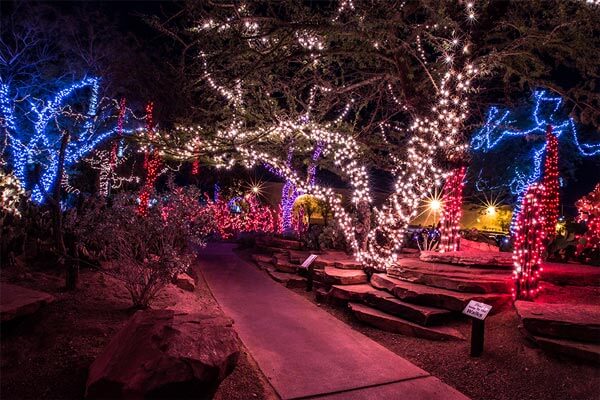 Las Vegas is a city that was tailor made for Valentine's Day. With intimate shows, romantic restaurants, and numerous wedding chapels, people looking for love know that Vegas is their go-to destination. So, when mid-February rolls around, and you find yourself in the city of lights, you may have a hard time choosing from all of the great options. So, to help cut through the clutter, here are 3 super cute and ultra-unique ways to dial up the romance on Cupid's day. Read More>
---
Vegas Holiday Festivities To Enjoy... For Free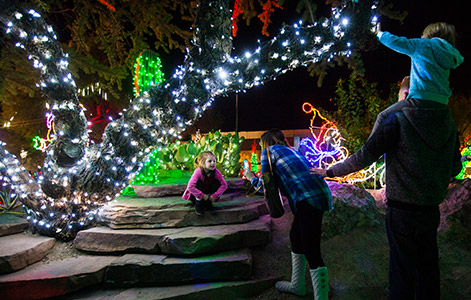 The holidays in Las Vegas can be pricey. With high attraction prices, overpriced parking, expensive drinks, you can quickly burn through your budget. That's why it's important to know where you can experience the best of the season without experiencing the financial burdens. Take a look at some free events that you can enjoy this holiday season in Las Vegas. Read More>
---
A Guide To Client-Friendly Gifts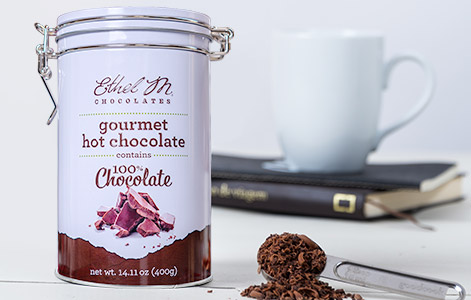 We can all agree that showing your client', colleagues, and boss gratitude is always a good idea. However, choosing something that fits isn't a simple task. So, with holiday season right around the corner, here are a few tips to help you find the right gift for everyone at work; all without busting your budget. Read More>
---
12 Gifts of Christmas - The Ethel M Holiday Gift Guide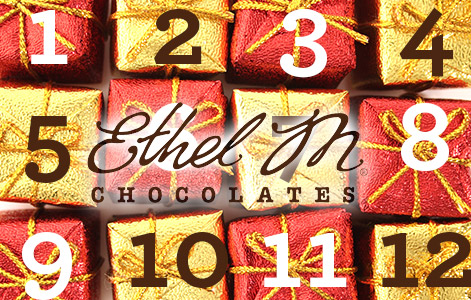 "On the first day of Christmas my true love sent to me: An Ethel M chocolate treat." Just like that famous Christmas carol, Ethel M has compiled a list of 12 grand gifts that will please all of the chocolate lovers in your life. This gift list will be your go-to guide for all your gift-giving needs. Read More>
---
Make the Holidays Memorable With Ethel M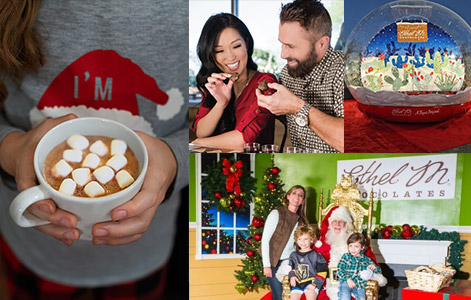 Traditions are what make the holidays so amazing. Exchanging gifts, sitting down to delicious dinners, and celebrating with loved ones are just a few of the memorable moments we all embrace during this season. Well this year, Ethel M Chocolates is adding some new traditions of their own that are tailor-made for those who love the holidays. Take a look at some ways that Ethel M. is celebrating the holidays in 2018... Read More>
---
Chocolate Facts: 10 Things You Need to Know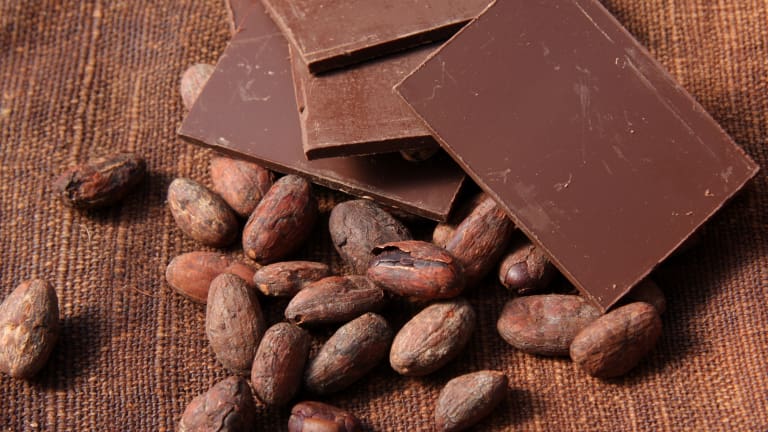 70% of the world's cocoa beans come from four West African countries: Ivory Coast, Ghana, Nigeria and Cameroon. Ethel M sources its chocolate primarily from Africa, but it cocoa beans can be grown at a certain latitude all around the world… Read More>
---
5 Reasons Why Chocolate Makes the Best Business Gift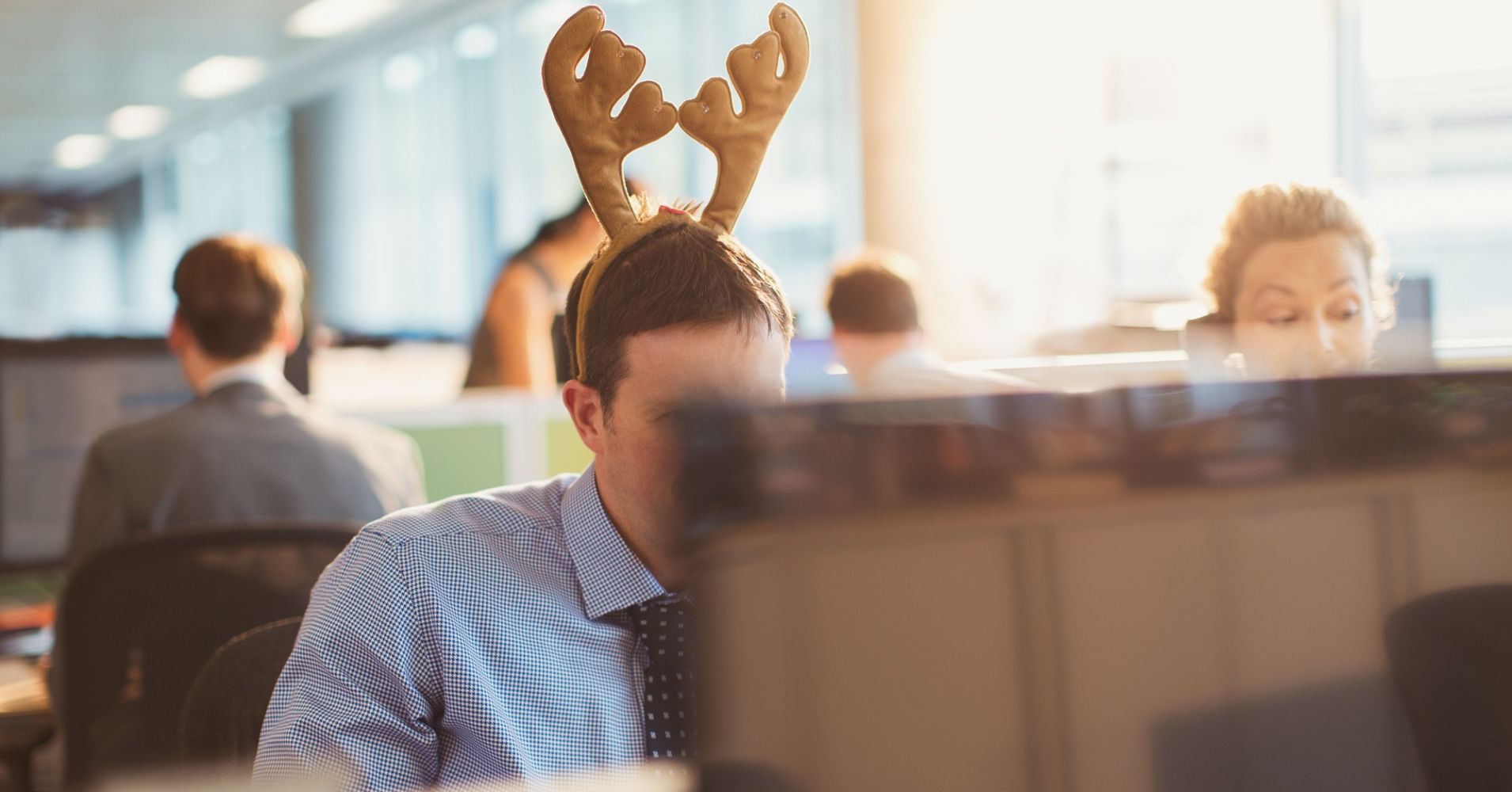 If you're sitting there wondering whether or not you should give your client a business gift this Holiday Season, the answer is yes... Read More>
---
Our Biggest Box of Chocolates... Ever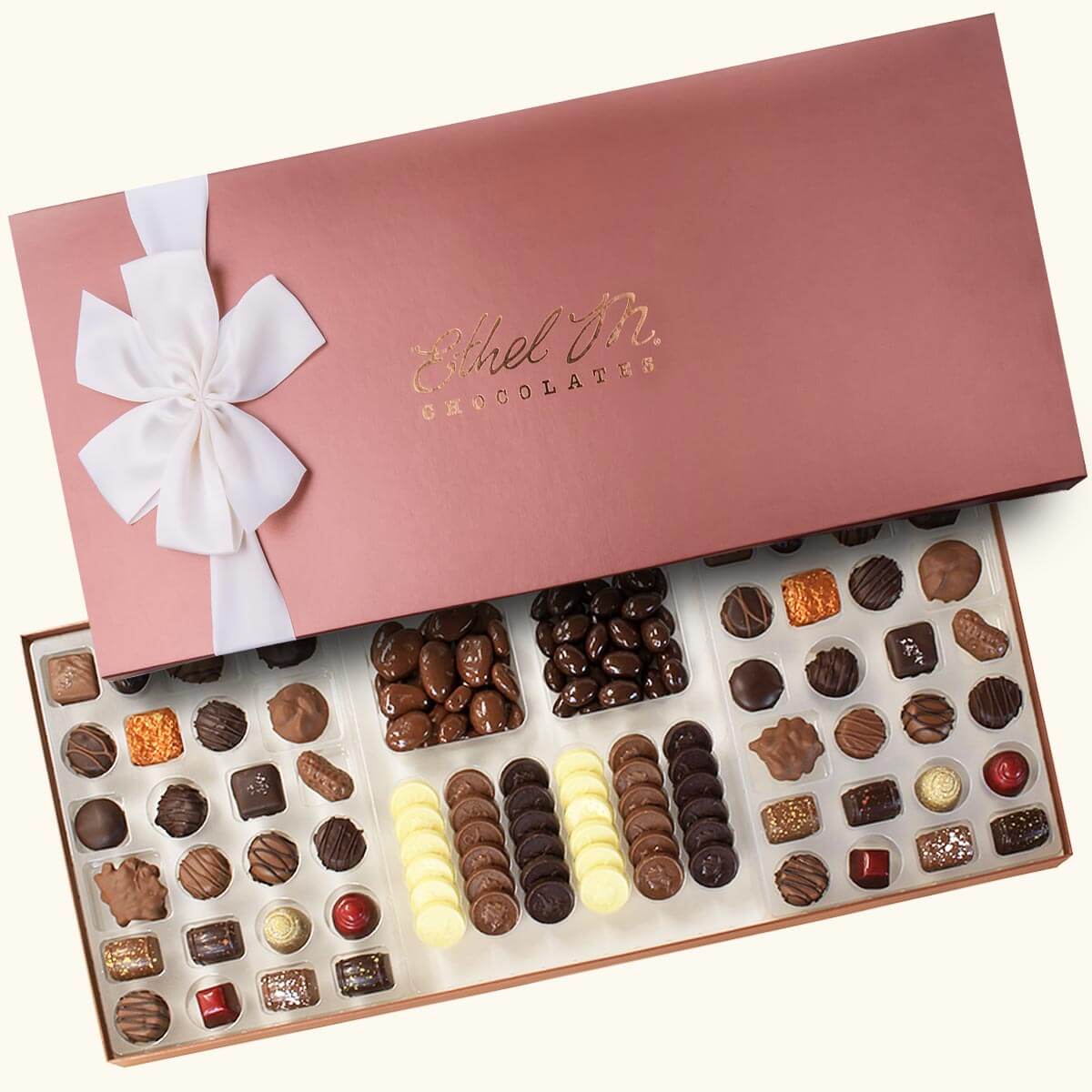 This is it. The biggest gift we've ever made. It contains literally over 80 pieces of chocolate… Read More>
---
Seven Things to do in Las Vegas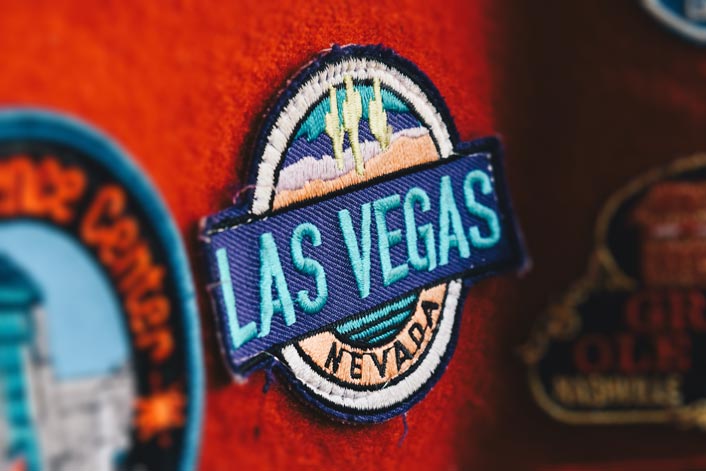 When you think Las Vegas, you think craps, cards, and cocktail waitresses. It's no secret that Las Vegas was built on a foundation of lost wagers. But there is much more to this town than bookies, blackjack, and betting. To help demonstrate that point, we've listed seven of the best things to do in Las Vegas besides hitting the casinos. Read More>
---
Handout These Spooky and Sweet Treats
Halloween costumes aren't just for you and the kids, they're for your candy bars, too. Make it a family craft night by dressing up your favorite candy bars or go all-out and have your own Halloween Wars – build a display then add the Halloween bars for a winning touch. Read More>
---
A Delight for Every Dad
Finding the perfect gift for dad can be difficult. Most Father's Day gift searches will yield results like ties, alcohol, and grilling tools. Well, at Ethel M., we want to give you some original ideas because, as we know, not all dads are the same. Read More>
---
Sweet Ways to Celebrate Galentine's Day
It's been eight years since Leslie Knope coined the term "Galentine's Day" and today it has become a widely recognized fictional holiday. Read More>
---
A Very Vegas Christmas: The Ultimate Holiday Event Guide
'Tis the season for holiday cheer! There is no better way to get in the holiday spirit than in the entertainment capital of the world. Watch as the entire city transforms into a dazzling desert winter wonderland. With so many events around town, choosing the perfect one can feel overwhelming so take a seat next to the fireplace, sip some hot cocoa and keep reading to discover the top 6 holiday activities in Vegas. Read More>
---
Gifts for the Women in Your Life
Holiday season is upon us! Finding the perfect gift is no easy task. No matter if you're shopping for your mom, girlfriend, sister, wife, coworker, or grandma, we've got the perfect gifts for all the women in your life. Read More>
---
10 Reasons Why Ethel M Chocolates Is The Only Holiday Gift You Need To Buy
Let Ethel M Chocolates be your one-stop shop this Holiday season! Here are our reasons why... Read More>
---
Business Gifts Are Not Just for Christmas - When Should You Give a Gift?
In the wonderful world of business, there is always an occasion to show someone how much you appreciate them. It can be a client, a coworker, an employee, your boss – anyone. Building and maintaining relationships is crucial in the workplace. Read More>
---
The Art of Gifting Chocolate
Birthdays, anniversaries, holidays, and thank yous all have one thing in common: gift giving. Though gift giving is challenging, there is one sweet gift that is never the wrong gift to give. We're talking about chocolate, of course. Here are some tips for gifting the right chocolate: Read More>
---
Ethel M Chocolates is now available on Amazon Prime.
We've all done it; lost track of time scrolling through thousands of products on Amazon, adding everything our hearts desire (and a few things we probably don't need) to our "Wish Lists" or cart. Well, now you can add a few more favorites to that list — Ethel M Chocolates. Read More>
---
Celebrate Independence Day right. Decked out with Stars and Stripes.
Summer is ramping up and the smell of barbecue will soon consume the air. And now that June is coming to a close, it's time to get ready for all of your Fourth of July social functions. What will you bring to the party?
Give your friends and family a taste of Ethel M Chocolates' Stars and Stripes Collections. Trust us, you'll be sure to sweeten and spark any July event when you walk in with our patriotic-themed chocolate gift. Read More>
---
6 Ways Ethel M Chocolates Can Sweeten Your Summertime Vegas Getaway.
Summer is a social season. School is out and adults start to set their summer vacation out of office. That means you'll be getting a slew of invites to splashin' pool parties, baby showers, wedding showers, birthday parties, and BBQs. And as the wise would say, "Never show up to a party empty-handed." At Ethel M Chocolates, you can easily find a chocolate gift perfect for any occasion. Read More>
---
3 Reasons Dad Deserves Premium Brittle This Father's Day
You love dad. Dad loves you. Those are givens. But sometimes (i.e. Father's Day), dad needs you to show him a little more love than just saying it. So here are 3 reasons why dad deserves the world's best (in our humble opinion) Pecan Brittle this Father's Day! Read More>
---
The 4 Sweetest Gifts to Get Your New Grad
Graduation is an amazing celebration of accomplishment. Not to mention a fresh start for your new grad. So here are four fresh and flavorful gift ideas that special someone in your life who just graduated, whether they are leaving high school, college, or anything else worth celebrating! Read More>
---
5 Reasons Why Moms Deserve to be Spoiled on Mother's Day
Mother's Day is fast approaching, and you still haven't found the perfect present for mom? Well, look no further than Ethel M Chocolates. Our premium, gourmet, handmade chocolates are more than a delectable treat. They can be personalized to be as unique as a mother's love. Your mother deserves to be spoiled. Here's a list of all the reasons why. Read More>
---
Simply Sweet Spring Gift Ideas
Spring is a lovely time for the family to come together and enjoy perfect weather, fresh-picked flowers, and of course, something sweet. Spring is more than a season; it's a feeling! That's why Ethel M Chocolates is introducing a new spring collection perfect for gifting and sharing with your loved ones. Whether you're looking for an Easter treat or the perfect Mother's Day gift, Ethel M has got you covered with our Simply Sweet and Truly Delicious spring collections. Scroll down to help find the perfect addition to your springtime traditions Read More>
---
The Top 6 Reasons You Need to Visit the New Ethel M Chocolates Factory
October was definitely a thrilling time here at Ethel M® Chocolates. Not only was it our 35th anniversary, it was also the Grand Opening of our new factory and flagship store! The complete overhaul is amazing, and it brings a whole new look and atmosphere to our Henderson headquarters. Read More>
---
No Tricks. Just Treats
They say two is better than one, but this month we're saying eight is better than one! With one of the year's sweetest holiday coming up, we've got you chocolate-covered. Read More>
---
Top 5 Reasons Why You Should Have a Chocolate Tasting Experience on the High Roller
Recently, we partnered with The High Roller at the LINQ Promenade - the world's largest observation wheel - to offer riders a little something extra. High Roller riders can add to their experience with a full five-piece chocolate tasting from us! Read More>
---
Renovation and Innovation
New and exciting things are happening at Ethel M Chocolates right now, and this time we're not talking about our chocolates... although chocolate is always exciting in our books! In celebration of our 35th anniversary, we're undergoing a $2-million renovation project. Read More>
---
The New Patriot Collection Is Full of Star-Spangled Sweetness!
July 4th is the perfect time to reflect on all the things that make America great. Mom, baseball, apple pie, and of course, Ethel M Chocolates. Our new Patriotic Classic Collection is a delicious way to let freedom ring. Read More>
---
This Just In: Dads love chocolate, too!
Why should Mom get to have all the fun? Dads love chocolate, too! That's why we've put together some special new seasonal pieces he's sure to enjoy, in collections that are distinctly for dad. Here are just a few ideas for Father's Day gifts dads are sure to eat right up. Read More>
---
The Chef Behind the Chocolate: Meet Chief Chocolatier Mark Mackey
Many of our Ethel M Chocolates recipes date back to the kitchen of Ethel Mars in 1910, and with that many hears of experience it is hard to improve on the experience and perfection of the Mars family. But, you may have noticed a few recent additions to our chocolate portfolio, including Dark Chocolate Cherry Cordials and Dark Chocolate Agave Tequila Liqueurs. And we have a few more new tricks up our sleeve coming soon.
So who's the mystery chef creating these deliciously new and innovative chocolate recipes? We're proud to introduce you to our new Chief Chocolatier, Mark Mackey. Read More>
---
5 Reasons Why a Chocolate Tasting is the Hottest Date in Vegas
1. It's at a Freakin' Chocolate Factory. Honestly, ever since the first time we all saw Willy Wonka, we knew that any chocolate factory would be one of the most magical places in the world. And while our chocolate factory does not house Oompa Loompas or candy that will turn you into a Read More>
---
Shipping Chocolate From the Desert: Is it Magic?
It sounds like magic, right? I mean, shipping a box of chocolate from our store to your door when the temperature outside our desert-based chocolate factory is 110° F. It would be hot chocolate before it even got past our Read More>
---